Het is maandag en dat betekent dat vandaag ook mijn eerste DT post voor de Creatieve Zebra een feit is!
Deze week hebben we als thema Alles Mag!, lekker makkelijk dus, want tadadada....... alles mag ;-)!
It's Monday so time for my first post for the Creative Zebra. This week our theme is Anything Goes, easy right ;-)?
Onze sponsor voor deze week is Jacobi / Our sponsor this week is Jacobi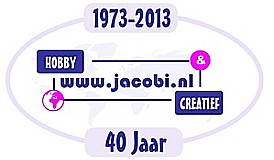 Jacobi Hobby & Creatief is sinds 1973 aktief in de in- en verkoop van creatieve hobbymaterialen.
Een enthousiast team van 9 medewerkers zorgt er voor dat u in onze winkel vakkundig wordt geholpen
en dat al uw bestellingen zo snel mogelijk worden verwerkt en verzonden naar alle delen van de wereld.
Onze speerpunten zijn daarbij het snel leveren van nieuwe artikelen op hobbygebied tegen een scherpe prijs."
Voor deze challenge konden ook de dames van het DT natuurlijk een fantasie de vrije loop laten en dat heb ik dan ook lekker gedaan ;-). Dit is wat ik ter inspiriatie gemaakt heb:
For this challenge the ladies form the DT also could make about anything, so I did. I made this Cupcake shaped birthday card for some inspiration :).
Cardstock - Bassil Basics Paper
Image - Tilda /Word Sentiment
Color medium - Distress Markers and pads
Papers - Basic Grey Kioshi Paper pad
Dies -
Spellbinder Floral Oval / Marianne Design

Collectibles

Heart
Embellishments -

Mulberry Paper Flowers / Pearls
Hopelijk doen jullie lekker allemaal mee met deze challenge en zie ik je terug bij de
Creatieve Zebra
!
Hopefully everybody joins the challenge over at the Creative Zebra, see you there!